August 30, 2023 9:54 pm
Leave your thoughts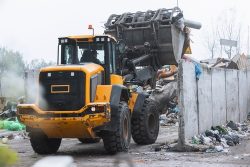 Skid steer loaders are incredibly versatile machines, capable of handling a wide range of tasks. One of the key factors that contribute to their versatility is the availability of various attachments, including grapples. Grapple attachments can enhance the efficiency and productivity of skid steer loaders by enabling them to handle materials such as logs, rocks, and debris with ease. In this blog post, we will explore the different types of skid steer grapples and discuss their primary uses.
1. Root Grapples:
Root grapples are specifically designed for handling materials such as tree roots, branches, and other organic debris. These grapples feature sturdy tines or teeth that can penetrate the ground, allowing operators to effortlessly remove vegetation and clear land. Root grapples are commonly used in landscaping, agriculture, and construction projects where land clearing is necessary.
2. Rock Grapples:
As the name suggests, rock grapples are designed for handling rocks and boulders. These grapples typically feature strong, heavy-duty teeth or claws that can securely grasp and transport large rocks. Rock grapples are commonly used in construction and land development projects where rocks need to be moved, sorted, or loaded into trucks or bins.
3. Brush Grapples:
Brush grapples are designed for handling shrubs, brush, and other vegetation. These grapples feature wider tines or arms with closely spaced bars or grids, allowing them to contain and secure smaller materials. Brush grapples are popularly used in landscaping, forestry, and land clearing projects where efficient removal of brush and debris is required.
4. Industrial Grapples:
Industrial grapples are heavy-duty attachments primarily used for handling large and bulky materials such as logs, construction debris, and scrap metal. These grapples typically feature high-capacity jaws or forks, allowing for secure and efficient material handling. Industrial grapples are commonly utilized in construction, demolition, and recycling industries.
5. Scrap Grapples:
Scrap grapples are designed specifically for handling scrap metal, such as iron, steel, and aluminum. These grapples feature powerful claws or jaws that can firmly grip and lift heavy metal objects. Scrap grapples are widely used in recycling facilities, scrapyards, and demolition sites where efficient handling and sorting of scrap metal is essential.
6. Combination Grapples:
Combination grapples, also known as multi-purpose grapples, are versatile attachments that can handle a variety of materials. These grapples are designed with a combination of features from different grapple types, allowing operators to switch between applications quickly. Combination grapples are often used in rental fleets and by contractors who require a versatile attachment that can adapt to different job requirements.
Conclusion:
The versatility of skid steer loaders can be significantly enhanced by utilizing various grapple attachments. Whether you need to clear land, handle rocks, or move debris, there is a grapple attachment available to meet your specific needs. By choosing the right grapple for the task, you can increase efficiency, productivity, and safety on your worksite.
At V-Bar Equipment Company, we offer a wide range of skid steer grapples to suit the diverse needs of our clients. From root grapples and rock grapples to brush grapples and industrial grapples, our inventory is stocked with high-quality attachments designed to handle different materials and applications. Visit our inventory page to explore the different types of grapples we offer. Our knowledgeable team is ready to assist you in selecting the perfect grapple attachment for your skid steer loader. Contact us today to learn more about what we can do for you!
Categorised in: Skid Steers
This post was written by admin